Judy KoneffKlatt
The following letter was sent out to all school and parish families on Wednesday, May 28, 2020.

Dear Friends,
Last Sunday as I spoke with Judy's family they asked if they could bring Communion to her.  I was happy that night when Judy sent me a text, through her son, thanking me and sharing that receiving brought her a moment of happiness, joy, and peace. Judy's witness to her faith in a God whom she believes always loves and will always take care of us, inspires me at the times I am not always sure.
It is remembering that faith and trust that Judy instills in her children, the families of the school community, and all of us in the parish, that I now update you on her condition. Continuing to respect the family's privacy, we do want to let you know that Judy remains hospitalized.  Her family works closely with her doctors in consultation with palliative care and hospice to offer the best approach for her care given the very recent revelation that she has cancer.
I have passed on to Judy's family many of your sentiments, and commitment to prayer for her. The hospital is not allowing cards or anything else to reach her due to the current pandemic situation. The family will receive them. Your usual generous response to such situations is greatly appreciated.  So many have offered to prepare meals or to run errands for them.  I am asking that all of these wonderful and generous efforts be coordinated through Kim at the school office or Melody at the parish office to allow Judy and her family to have time with each other and not be distracted by unplanned visits, calls, or other good intended interruptions.
During a situation like this, you may wonder how to speak to your child. While there is no easy way to help a child understand illness, I have faith in your loving care as parents to speak honestly, compassionate and faithfully with your child. Judy is sick, the doctors and nurses are taking very good care of her, and we are praying that they can help to make her better. We can pray for her and for her family. I would also ask you to speak about our faith and know that is what Judy would tell us to do. 
No matter what, we trust in a God who always loves us. Sometimes, in difficult circumstances, it is hard to believe that, but that is why Jesus came so we might know that God will always take care of us.  Mrs. KK is showing us that belief when she delighted in receiving Jesus in Communion last week and even though she is worrying about all of us, especially every child in the school.  I know she is worrying that each child will get to finish this school year and be proud of their achievement and promotion without worrying about her.  She is always hoping that each of us will grow in our faith and trust in God even at times like these.
Lastly, now of my gratitude to the faculty and staff.  We are in partnership with each other, and united as one family in loving support for Judy and for the St. Theresa School community. We are committed to continuing to work together to complete our school year in a positive manner for our students, united in the mission Judy cherishes so dearly. Please keep praying for Judy and her family.  And let us all keep encouraging, supporting, and caring for one another as we bring this unprecedented school year to a close, trusting in our God and in each other. 
Fr. Bob McCann, Pastor
STUDENT LEARNING EXPECTATIONS (SLEs)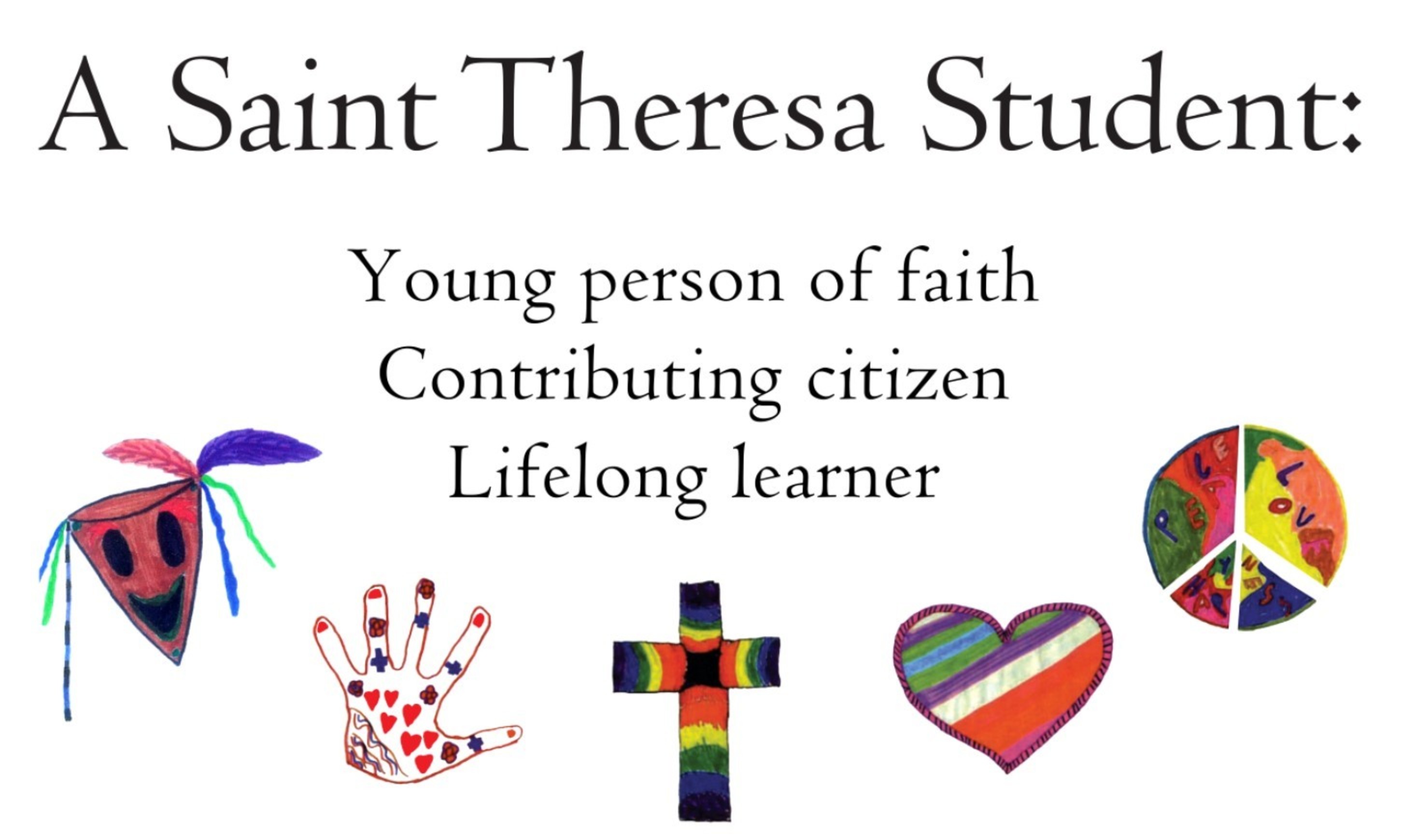 YOUNG PERSON OF FAITH
Engages in the faith community through prayer, worship and stewardship
Respects self and others by making decisions based on the teachings of Jesus
CONTRIBUTING CITIZEN
Responds to local and global needs through stewardship and service learning
Assumes responsibility for his or her own actions
Respects diversity
Participates in St. Theresa school and parish activities
LIFELONG LEARNER
Meets academic standards
Develops skills in physical activities and the arts
Uses information to think, question and create
Works independently and cooperatively
St. Theresa School
St. Theresa provides a quality Catholic education for students from Transitional Kindergarten through eighth grade. Our dedicated faculty and extraordinary level of parent involvement allow our students to benefit from various learning experiences and programs including art, musical instruction, chorale, field trips, Spanish, library, physical education, technology and sports.
We provide a rigorous core academic curriculum combined with engaging enrichment programs and extracurricular offerings. Our students' test scores are among the very highest in the Oakland Diocese. Our eighth graders regularly test into honors programs in the top Catholic high schools in our area and every year many of them also receive prestigious Presidential Scholarships.
As a Catholic school, we emphasize personal growth as much as academic growth, allowing students to learn and develop their individual talents in a nurturing, respectful environment. Our campus includes an event center & gymnasium, computer lab, library, science lab, music room, open green areas and plenty of room for play. 
St Theresa School Contact Information
St. Theresa School
4850 Clarewood Drive
Oakland, CA  94618
510-547-3146