God Matters.... Daily Meditations with Fr. Tegha
GodMatters seeks to remind us that God alone truly matters. Therefore, we are devoted to talking about 'God Matters'. This includes, Daily Meditation, Inspirational quotes that can give life a new direction, theological topics and more...
Join Fr. Tegha on his Facebook page for his daily Meditations.
Daily Virtual Rosary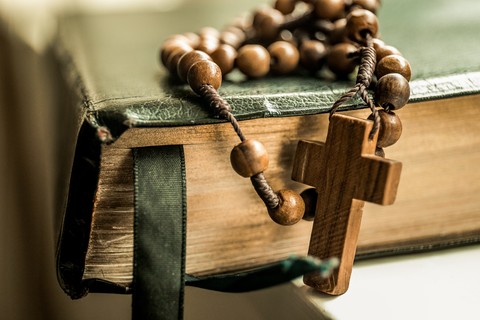 During this time of crisis, Dr. Tom Wallace has set up a daily virtual Rosary. This is a great way to stay connected. You can put it on your phone and participate as much as you would like.
Dr. Tom has invited us to a virtual Rosary daily at 7 pm
Dial up 1-425-436-6301
Access Number:  530583#
A Call to Prayer

O Mary, you shine continuously on our journey as a sign of salvation and hope.
We entrust ourselves to you, Health of the Sick.
At the foot of the Cross you participated in Jesus' pain, with steadfast faith.
You, Salvation of the Roman People, know what we need.
We are certain that you will provide, so that,
as you did at Cana of Galilee,
joy and feasting might return after this moment of trial.
Help us, Mother of Divine Love,
to conform ourselves to the Father's will
and to do what Jesus tells us:
He who took our sufferings upon Himself, and bore our sorrows to bring us,
through the Cross, to the joy of the Resurrection.
Amen.
We seek refuge under your protection, O Holy Mother of God.
Do not despise our pleas – we who are put to the test – and deliver us from every danger, O glorious and blessed Virgin.
Liturgical Press:
Magnificat Magazine:
The Word Among Us:
Bishop Barron:
Take Five For Faith:
Today's Good News: